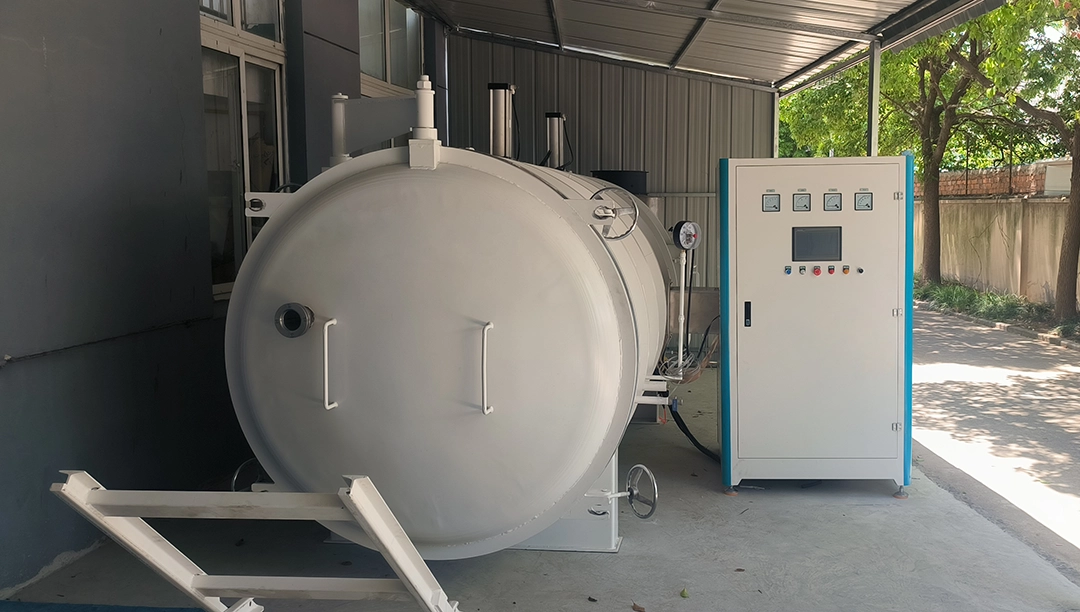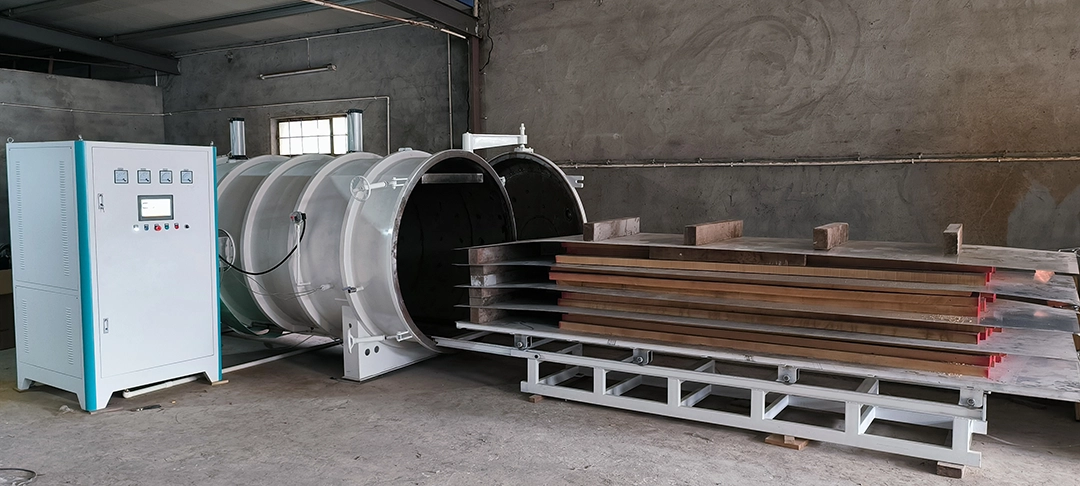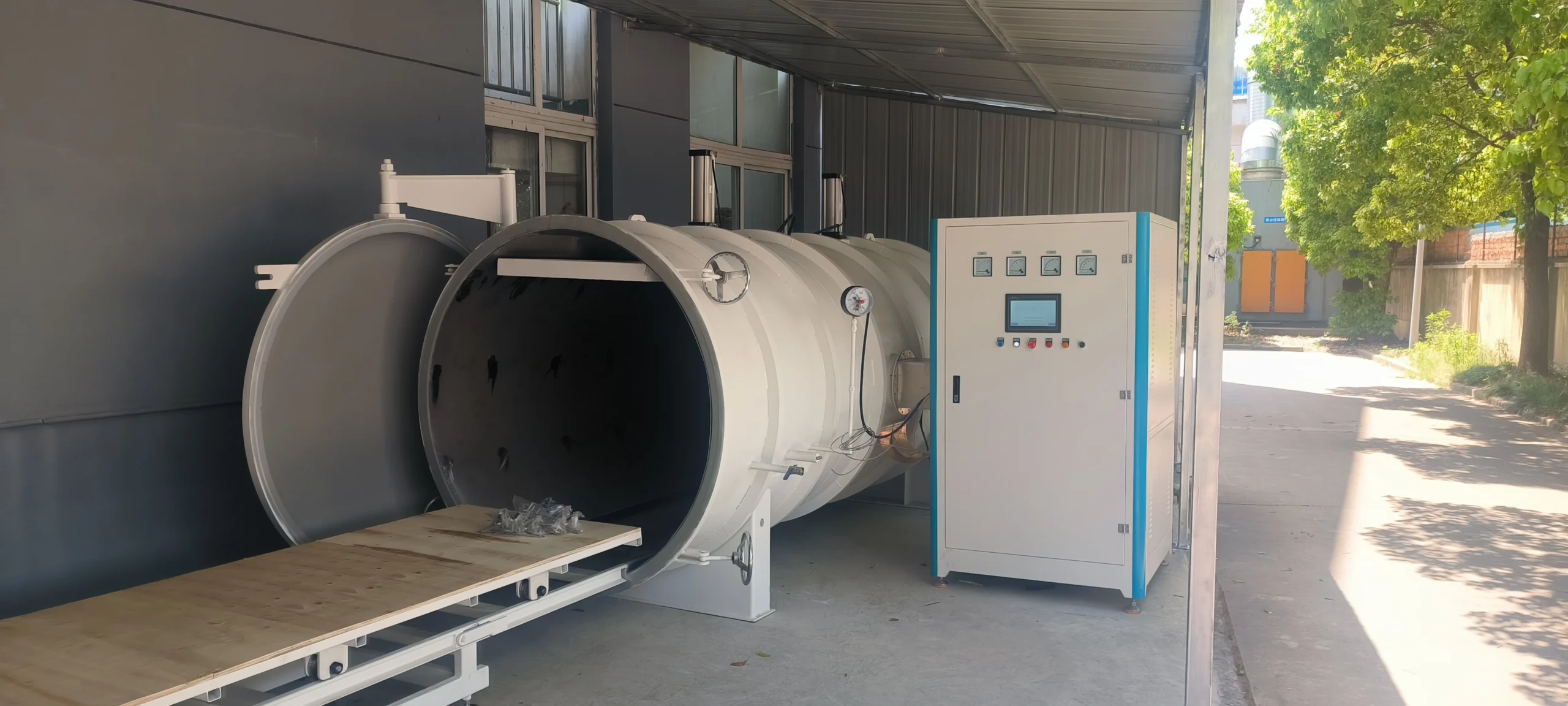 High frequency vacuum wood drying kiln is a new type woodworking machine for fast wood drying/seasoning. It saves time and energy. High frequency wave can penetrate wood deeply. High frequency vacuum wood drying kiln is times faster than steam drying and more uniform. In vacuum condition and lower temperature, vacuum can suck wood moisture out and double increase heating efficiency. After drying, there is no crack, shrink nor color changing. High frequency vacuum wood drying kiln can dry all kinds of wood, especially for large square beam, hard wood, veneer and rosewood.
High frequency vacuum wood drying kiln is also very suitable for secondary drying. For wood secondary drying, it will use 10 to 20 hours according to different wood species, thickness and moisture contents. Low power costs, fast wood turnover rate, convenient operation and saving floor space. It is the best choice for wood drying for different scales of furniture manufacturers.
Benefits of HF Vacuum Wood Drying
Difference between high frequency vacuum drying and other drying methods
High frequency drying is internal heating method. It makes water heat themselves. Totally different with conventional external heating method (conductive drying method)
High frequency drying can make wood inside temperature higher than surface. Together with pressure difference, it increases the transfer speed of wood moisture from inside to outside. Much better and conductive heating method.
During high frequency wood drying, the distance between two layers of electrodes should be 150-250mm. The large distance can reach to 500mm. Other drying method cannot reach to such thickness. It is very good at thick wood and hard wood drying.
High frequency heating makes wood temperature gradient less than normal heating method. So the inner stress is much less than others. The wood will not easy to crack.
High frequency vacuum wood drying kiln equips with hydraulic press. During the drying process, it will give pressure on wood. After drying, it can keep wood straight and correct the wood slightly.
Under vacuum condition, vaporization temperature is low. It makes low temperature wood drying come true. High frequency plus vacuum, can protect wood from cracking, bending and color changing problems.
Specs – High frequency vacuum wood drying kiln
Model
HFVK-3-ABT
HFVK-4-ABT
HFVK-6-ABT
HFVK-10-ABT
HFVK-13-ABT
HFVK-18-ABT
Loading
Capacity
3cbm
3*1*1m
4cbm
4*1*1m
6cbm
6*1*1m
10.14cbm
6*1.3*1.3m
13.52cbm
8*1.3*1.3m
18cbm
10.5*1.3*1.3m
Power
Supply
AC 380V, 50Hz, 3 phases or custom made
AC 380V, 50Hz, 3 phases or custom made
AC 380V, 50Hz, 3 phases or custom made
AC 380V, 50Hz, 3 phases or custom made
AC 380V, 50Hz, 3 phases or custom made
AC 380V, 50Hz, 3 phases or custom made
HF Power
20kw
20kw
30kw
50kw
50kw
80kw
HF Frequency
6.78MHz
6.78MHz
6.78MHz
6.78MHz
6.78MHz
6.78MHz
Cooling
Wind
Wind
Wind
Wind
Wind
Water
Drying Temperatures
50 to 90 °C
50 to 90 °C
50 to 90 °C
50 to 90 °C
50 to 90 °C
50 to 90 °C
Temperature
Control
2 pcs of optical fiber sensors
2 pcs of optical fiber sensors
2 pcs of optical fiber sensors
2 pcs of optical fiber sensors
2 pcs of optical fiber sensors
2 pcs of optical fiber sensors
Vacuum Pressure
up to -0.092MPa
up to -0.092MPa
up to -0.092MPa
up to -0.092MPa
up to -0.092MPa
up to -0.092MPa
Control
PLC, HMI Screen; auto shut down after drying finishing
PLC, HMI Screen; auto shut down after drying finishing
PLC, HMI Screen; auto shut down after drying finishing
PLC, HMI Screen; auto shut down after drying finishing
PLC, HMI Screen; auto shut down after drying finishing
PLC, HMI Screen; auto shut down after drying finishing